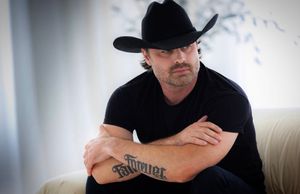 "

We are Mysterious Creators in a world of uncertainty. With the choice to bring joy and light into a dark place. I don't see myself as just an artist but as a man living and reaching for his dreams. And every step taken towards it is one adventure worth living for... Without hope the dreamers give up. And I know we can't live on hope alone, but without hope, life is not worth living. So we, all of us, we got to give them hope. So the dreamers, the children, and their innocents will shine as a beckon for all of us to believe.... BELIEVE!! "
In a world that likes to label artists and relegate their creative efforts to a certain box, chart, or genre, There are still visionaries who refuse to be defined. as a southern Jewish-born young man, Tristan Jackson is one of those artists. his diverse resume looks like it should have been the work of at least five people. An accomplished actor and award-winning director, Jackson is also an acclaimed songwriter with credits in multiple genres, a compelling live performer, and a skilled boxer who holds an undefeated record as a national golden gloves champ.  
Fortunate is an understatement. Jackson's acting career flourished, and his resume includes films with Tom Cruise, John Travolta, Vince Vaughn, and other A-list actors as well as television appearances and music videos, including his role as Jana Kramer's love interest in her "Whiskey" video where his boxing experience paid off in the climactic fight scene.  
Though he's appreciative of the experiences he's had as an actor, music has always been his first love. He's collaborated & written with some of the most respected songwriters in the world, including Desmond Child, the "Newsboys / DC Talk's "Michael Tait, "Love & Theft's" Stephen Liles. He has learned to move effortlessly between genres but admits he leans toward country music. "I grew up listening to my grandfather play country music on his 1952 Gibson guitar by his wood-burning stove, and watching "Yee Haw" at the Grand Ole Opry, " says Jackson, who moved to Nashville in 2009 and lives on a 16-acre farm west of town called Jackson hill. "I've been told,' you've got to pick a genre,' and I'm like, 'no. no, I don't. However, I am more driven to Country music because of my grandfather and because I believe Country music tells the truth."  
At a time when modern country music has become an intriguing blend of pop, rock, blues, and hip hop; Jackson's eclectic tastes just might make him the quintessential Nashville artist. "Country tells great stories, and that's what I want to do. I want to tell stories of my journey," says Jackson, who sees Country music as the prime vehicle to share those stories. "Country fans today listen to more than just country. They love Matchbox Twenty. they love Garth Brooks. There's not one dial anymore."  
Jackson's varied tastes influence his writing and performing. he credits his energetic stage presence to his two major influences---Garth Brooks and Guns n' Roses. A compelling live performer who has opened for country acts like Sara Evans, John Pardi, Parmalee, and rock bands such as Fuel, it's not unusual to see Jackson jump into the crowd, serenading some fans, and taking selfies with others. He has a natural charisma and a love of people that helps forge an instant connection.  
Working with Grammy award-winning producers, writers, artists, engineers, and multi-platinum-selling artists around the world  to A-list actors and filmmakers: 
Stephen Spielberg, Cameron Crow, Jana Kramer, Tom Cruise, Taylor Phillips, John Travolta, Trace Cyrus, Rich Redmond (Jason Aldean), Meghan Lindsey, Sean Astin, Big Smo, the Henningsens, Jasin Todd (Shinedown), Brad Stewart (Shinedown), Brett Scallions (Fuel), Lajon Witherspoon (Sevendust), Desmond Child, Love & Theft, Michael Tait (Newsboys & DC Talk), Kerry Degman, and many more. 
*Over 17 million YouTube views combined.